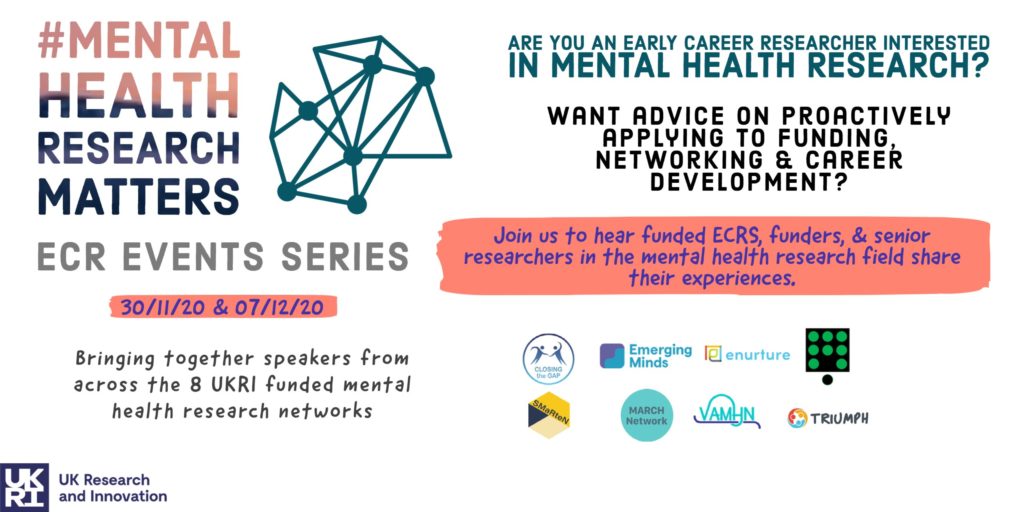 Are you an Early Career Researcher interested in mental health research?
Based on the priorities from a cross-network survey led by the Closing the Gap Network the coordination team for the 8 UKRI-funded Mental Health Research Networks have organised a free 2-part event series bringing together researchers from across the networks to provide proactive advice on applying to and securing mental health research funding, career development, and networking.
We are defining Early Career Researchers very broadly to include graduate students and postdoctoral researchers.
Event 1 – Mon 30 November 2020 1-4pm
The first event focuses on funding. Hear from the perspective both of network funded ECRS and funders on what makes a successful application, have your funding questions addressed by a funding representative and take part in an exciting competition!
Want to sign up?
Follow this link to register:
https://zoom.us/meeting/register/tJcofu2srTkqGNP1wSuEkyPtqrCj6ljcpUjf
Event 2 – Mon 7 December 2020 1-4pm
The second event focuses on networking and career development. You will have the chance to attend a series of "salon-style" breakout rooms where you will be able to ask all kinds of career and funding advice to senior researchers and PI's with a variety of research interests and backgrounds.
Want to sign up?
Follow this link to register:
https://zoom.us/meeting/register/tJEude6tqD0uGtUWRIqVcntySyeb36vWqEUa
Although there is no requirement to attend both events as they will build on each other this is recommended if you can make it.