Emerging Minds was a research network funded by UK Research and Innovation (UKRI) between 2018 and 2022. Across this website you can find out about what we got up to and who was involved. 
If you want to get in touch about anything to do with Emerging Minds, please email topicgroup@psych.ox.ac.uk. 
At the beginning of the network our project lead, Professor Cathy Creswell recorded a great overview on what Emerging Minds set out to do, which you can watch in the video below.
Our aim was to facilitate research that has the potential to reduce the prevalence of mental health difficulties experienced by children and young people.
We focused on benefiting children and young people with unmet needs through supporting research around:

Prevention
Preventing the onset of a diagnosable mental health condition, detecting signs of mental ill health early and preventing the escalation of need (from the World Health Organisation).


Mental health promotion
Increasing understanding and management of emotional and mental distress through programmes to change behaviours and attitudes (from the World Health Organisation).


Early treatment and support
Effective, early treatment and help for mental ill health: Accessible when children and young people need it.
In early 2019, we worked with YoungMinds & the Centre for Mental Health to hold priority setting workshops with young people, their families, practitioners, and policy makers to develop 4 research challenges.
The Big Question
How do we implement effective promotion of good mental health, prevention and early treatment for mental health problems at scale amongst children and young people?


Voices, Power & Attitudes
How can we amplify young people's voices and change societal attitudes in ways that positively impact on mental health?



Supporting the Supporters


How can family members, friends and settings, such as schools, be better enabled to promote good mental health and prevent and overcome emerging mental health problems?


Embracing Complexity
How can we best meet the needs of children and young people who have intersecting needs and face complex situations?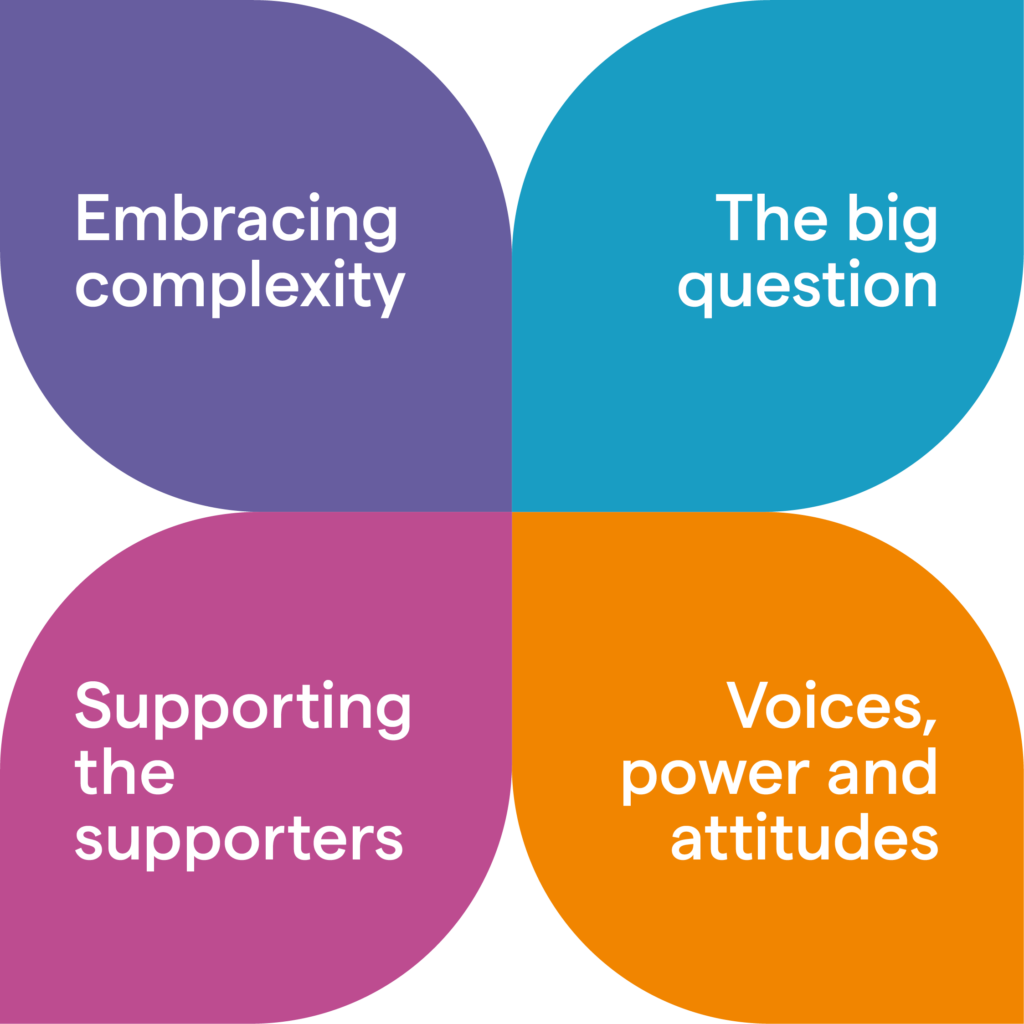 UKRI Mental Health Networks
The Emerging Minds Network was funded alongside 7 other networks as part of the Cross-Disciplinary Mental Health Network Plus initiative supported by UK Research and Innovation to bring researchers, charities, and other organisations together to address important mental health research questions.
The networks were supported throughout by the Impact and Engagement Coordination Team at Mental Health Research Matters.
Our sister networks included:
Professor Cathy Creswell – Principal Investigator, Professor of Developmental Clinical Psychology, University of Oxford

Emily Lloyd – Emerging Minds Network Manager, University of Oxford
André Tomlin – Founder & Director, National Elf Service

Pam Miller  –  Associate Head of Research, NSPCC
Kadra Abdinasir – Head of Children and Young People's Mental Health, Centre for Mental Health

Professor Sue Walker – Professor of Typography & Graphic Communication, University of Reading
Professor Sarah Halligan – Professor of Child and Family Mental Health, University of Bath
Dr Jen Martin – Senior Programme Manager, NIHR MindTech/ MedTech Co-operative

Professor Chris Bonnell – Professor of Public Health Sociology, London School of Hygiene & Tropical Medicine
Professor Deborah Chambers – Professor of Media and Communication, Newcastle University

Professor Ann John – Professor of Psychiatry & Public Health, Swansea University

Dr James Stark – Associate Professor of Medical Humanities, University of Leeds
Dr Caroline Jay – Senior Lecturer in Computer Science, University of Manchester
Emma Thomas – CEO of Young Minds
Chris Eldridge – 
Director, Mayden
Professor Chris Taylor – Director of Digital Futures, University of Manchester
Professor Pasco Fearon – Chair in Developmental Psychopathology, University College London
Dr Faraz Mughal – GP and NIHR In-Practice Fellow, Keele University
Professor Richard Layard – Emeritus Professor of Economics, London School of Economics
Dr Alex Mold – Associate Professor in History, London School of Hygiene and Tropical Medicine
Bethan Plant – Health Improvement Principal, Sheffield City Council
Sarah Brown – Deputy Head of Mental Health, Children & Young People's Mental Health Programme Lead, NHS England
Professor Chérie Armour – Professor of Psychological Trauma & Mental Health, Queens University Belfast
Alicia Grandjean – Software Engineer, BBC Research & Development
Family Advisors – Four individuals with lived experience of mental health difficulties
Young Person Advisors – Four individuals with lived experience of mental health difficulties
Professor Pamela Qualter – Professor of Education, University of Manchester
Professor Sarah Byford – Professor of Health Economics, Kings College London
Claire Robson – Programme Manager, Early Years, Children and Families Directorate, Office for Health Improvement and Disparities
Professor Stephen Scott – Consultant Child & Adolescent Psychiatrist and Professor of Child Health & Behaviour, Kings College London
Dr Rachel Hiller – Associate Professor in Child & Adolescent Mental Health, University College London
Andrea Taylor – Research Fellow in Design, Glasgow School of Art