The Big Emerging Minds Summit
Children & young people's mental health: From research to action
The Big Emerging Minds Summit gave us the opportunity to share, discuss, and celebrate all that has been done during the life of the Emerging Minds Network. In October 2022, over 300 delegates joined us in-person and online to take part in 24 workshops, explore 18 exhibits, and share their experiences, interests, and passions around children and young people's mental health research. Delegates from across sectors and disciplines came together to learn more about what has and is being done in the field of children and young people's mental health research, and share and develop ideas on what we can do in the future.
The collective outputs from the Summit from our workshop leaders, exhibitors, delegates, artists, and Beyond the Room livetweeting team are incredible. We have built the following pages to help capture the Summit experience and give everyone the chance to explore what happened further. Whether you couldn't attend all the sessions you would have liked, wanted to find out more about a particular project, or were unable to join us on the day – we'd love you to explore.
Artwork by Tom Bailey (@tombaileyart).
The Summit was structured around our 4 Research Challenges, which have underpinned all the activities of the Emerging Minds Network since the beginning: 
In the opening plenary, Cathy Creswell (Director of Emerging Minds) explained a bit more about the aims of the network and the research challenges, alongside members of the Leadership Team (James Stark and Kadra Abdinasir), family advisors (Yasmeen Zaman and Rachael Loftus), and Voices, Power & Attitudes intern Fiyory Ghezae. You can watch a recording of the opening plenary below. 
Over the last four years Emerging Minds has supported around 40 research projects, Special Interest Research Groups, and Cross-Sector Placements, as well as hosting 24 early career researchers through the GROW Researcher Development Programme and internships.
The Summit programme was very much built by them – all those who led workshops have been supported by Emerging Minds in some way, and we were thrilled to offer this opportunity for them to showcase findings, air challenges, and use the collective imaginations and experiences of fellow Summit delegates to plan next steps for their research.
An incredible amount of work went into each of the 24 workshops, and whether or not you could attend the Summit, the workshops pages now hold a wealth of information including slides, resources, live tweet threads, videos, photographs, and reflective artwork.
The Summit exhibition showcased academic posters, artwork, and multimedia focused on children & young people's mental health research, as avenue for delegates to exchange ideas and build collaborations. We're really pleased to now be able to share the exhibition in a digital format.
A key aspect of the Summit was to get people thinking about the next steps for children and young people's mental health research. With the funding for Emerging Minds coming to a close in November 2022, we wanted to help delegates create connections and spark ideas for research past the life of the Network. In the closing plenary we asked delegates to use "Next Steps footprints" to reflect on their own, and our collective, next steps. Delegates also had the opportunity to share their hopes and plans for the future as part of the Summit feedback form. Our intern Rowan analysed these reflections and has written them up in summary and report formats.
We were lucky to have some amazing artists joining us at the Big Emerging Minds Summit to capture the day:
Tom (@tombaileyart), who captured discussions through illustration
Maciek from Oxford Atelier, who took amazing photos for us

and 

Conor (@conorofficiel, strangeworld11.com) and Ronni (@projectrnz) from Fully Focused Productions

, who sketched through the day, and also created artwork afterwards based on their experiences at the Summit.
As well as showcasing photos and artwork throughout all our Summit pages, we've created a digital gallery where you can view sketches and photos from the day itself, and reflective pieces which our artists worked up after the Summit.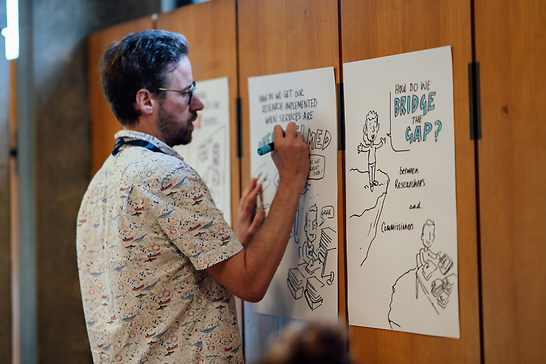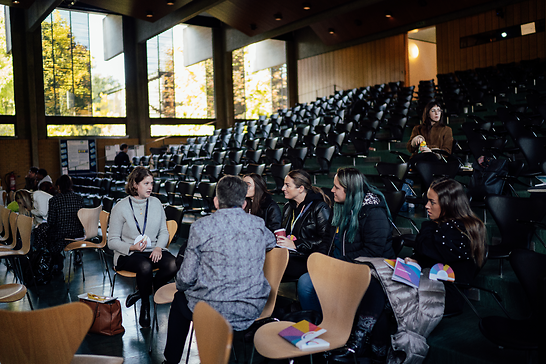 Thank you to everyone who shared their reflections and feedback about their Summit experiences on social media and through our feedback form. 
We were thrilled to see some brilliant blogs and twitter threads about the day. To get the full picture of the day, search #EmergingMinds on Twitter and scroll through the threads. But for now, check out: 
We've also been thinking very carefully about the constructive feedback we got in areas where we could have improved the Summit experience for delegates. We're collating all your reflections, alongside our own thoughts from the past year arranging the Summit, into a brief report which will be available soon. We hope it might come in useful if you are planning to organise or attend a similar large-scale multi-disciplinary multi-audience event in the future.