Opportunities for Early Career Researchers
We offer funded cross-sector placements for early career researchers to: 
Spend 3 months full time (part-time placements of typically one or two days per week may be over a longer period) working in a host organisation in the public or third sector.
Complete a research project that makes the most of your knowledge and skills to make a difference to children & young people's mental health.
To find out more about what this typically involves, you can read the blog posts from people who have taken part in past placements.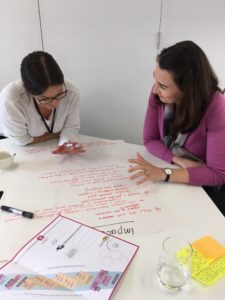 Mental Health Innovations/ Shout 85258 placement
Please send your completed application form by email to info@emergingminds.org.uk by 9am on Thursday 8 July 2021
Interviews with the team at Mental Health Innovations will take place in week commencing 19 July 2021.
Further details on the duties and responsibilities of the placement and how to apply can be found in the documents below:
What is an Early Career Researcher?

Our definition of 'early career researcher' includes those undertaking post-graduate study through to early career academics.
However, some activities may be better suited to individuals at different stages of this spectrum. The term 'early career researcher' includes peer researchers, those in universities and in the public, charity or business sector.
How else will the Emerging Minds Network support Early Career Researchers?
We also offer a programme of events and opportunities including a short-term fellowship programme and a mentoring scheme.
Please do contact our Network Manager Emily Lloyd to share your ideas if you are an early career researcher and would like to get involved with the Emerging Minds Network.
You can also sign up for our newsletter or follow us on Twitter at @EmergingMindsUK to receive regular updates about our events and opportunities.
Our early career researchers programme is being led by members of our leadership team and advisory group: Dr Caroline Jay, Dr Rachel Hiller and Dr Faraz Mughal.