On Friday 17th January 2020, we held a one-day workshop for early career researchers on Interdisciplinary Approaches to Children & Young People's Mental Health at the Mental Health Museum in Wakefield. We were thrilled that a group of young people from the McPin Young People's Network were able to attend as well.
Increasing numbers of early career researchers from a wide range of disciplines are undertaking work on mental health that entails interdisciplinary approaches.
Conducting research in this crucial area across disciplinary boundaries offers significant opportunities for innovative scholarship, but it can also present practical and intellectual challenges for those at the earlier stages of their academic careers.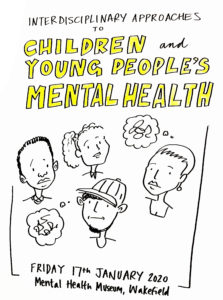 The workshop particularly focused on bringing together postgraduate and early career researchers across and beyond the arts, humanities, social sciences, with researchers from the health sciences.
Speakers included:
Professor Cathy Creswell (Developmental Clinical Psychology, University of Oxford)
Professor James Stark (Philosophy, Religion and History of Modern Medicine and Science, University of Leeds)
Denise Wheatman (Health Improvement Specialist, Wakefield Council)
Mary Robson (Creative Facilitator, University of Durham)
It involved interactive sessions and open discussion on research approaches and collaborations to help inspire future research into contemporary challenges in mental health. The incredible collections of the Mental Health Museum were used to inspire conversations about how we can draw on historical material to address present-day challenges.
Sessions included:
An introduction to Emerging Minds and 'Lessons from the Past' in health-related research

Where can the Arts and Humanities fit? Designing and implementing a resilience framework

Working across boundaries: Generating interdisciplinary methods in mental health research
The event was a big success, bringing together people from a wide range of backgrounds and interests. Participants were able to find out more about historical mental health treatments and ways in which people are trying to tackle these areas in the present day.
To follow up, we asked a few of the early career researchers who attended to write a blog post about how the day was for them. You can click the buttons to hear from Beatrice Hayes, a Psychology PhD student, and Alisa Hamilton, a recent Global Mental Health MSc graduate.
Artist Tom Bailey also captured some brilliant images drawing out key themes from the day's discussions, which you can find in the blogs too.
In a podcast shortly before the workshop, Professor Cathy Creswell and Professor James Stark sat down to discuss the event, and explore the exciting opportunities offered by interdisciplinary research and what this might mean for early career researchers.