Workshop: Children and young people's mental health research in the real-world: how to overcome the practical challenges
Led by: Francesca Weber, Alex Brown, Brioney Gee, Jonathan Wilson, and Tim Clarke
This workshop explored the challenges of carrying out children and young people's mental health research in diverse community settings and offers some potential solutions too. The facilitators shared some of their own experiences, and encouraged a discussion with the attendees, placing a focus on learning from each other and working together to identify possible solutions to shared frustrations. 
Commit time to identifying what matters on the ground so that findings can make a difference in the real world
Help clinicians think about what research is telling us, and what that might mean for their next steps
Design your benefits into your research, making it a part of the process from the very start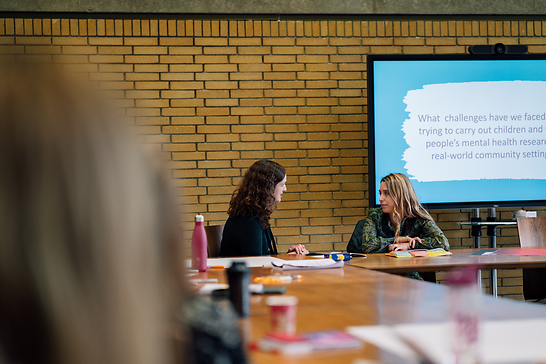 This workshop was connected to our Big Question research challenge: how do we implement effective promotion of good mental health, prevention, and early treatment for mental health problems at scale amongst children and young people?
Check out these pictures from the day!
Workshop Live Tweets
You can read a great thread below from @MariaLoades who live-tweeted the workshop.
Ok so next up it's cyp mh research – implementation challenges in the real world – starting off with thinking about challenges we face in practice and then potential solutions – what do you think 🤔? #EmergingMinds @EmergingMindsUK

— Maria Loades (@MariaLoades) October 17, 2022
One challenge is about where we are starting from in practice and how can our research be driven by what matters on the ground and ho who be ensure our findings make a difference – mid NHS demands and clinician fatigue, how do we innovate and look to the future?

— Maria Loades (@MariaLoades) October 17, 2022
Solutions: need to get management on board, commit time to this from service provision. Balance between how big the project is and what is realistic – service evaluation vs contributing to wider knowledge.

— Maria Loades (@MariaLoades) October 17, 2022
Attendees share experiences of challenges – time taken, gap between research processes and pathway and what matters to yp, families and clinicians, time needed to do extra, internal politics, access for researchers into settings like schools, ethics requirements

— Maria Loades (@MariaLoades) October 17, 2022
Solutions: need to be driven by what matters to clinicians, but this does mean it is often complex (real world implementation), links to universities and resources, need to help clinicians to think about what research is telling us and how we translate into practice

— Maria Loades (@MariaLoades) October 17, 2022
Ok, more solutions – attendees have brilliant ideas: emphasise the benefits of getting involved in research – design your benefit into your research, engage with existing organisations &collaborate, one stop shop for ethics, challenge institutional systems where they don't work,

— Maria Loades (@MariaLoades) October 17, 2022
Spending time observing in real world practice, ensure accessibility of info to community you are aiming to reach (fund communication strategy!), decision maker buy in (start with what they need answered and what are the measures they listen to), focus on relationships. pic.twitter.com/MoRYaXYLWL

— Maria Loades (@MariaLoades) October 17, 2022
Click below to return to the Summit homepage or explore the rest of the Summit