Workshop: Exploring an arts-based practice to help children talk about experiences of racism
This workshop discussed how body mapping has been used to support 9-11 year olds to talk about experiences of racism and how it affects them. The team shared their methodology and monitoring tools in this workshop to discuss how and reflect on how these strategies might be drawn on in research. 
Just because talking about racism with young children might be uncomfortable children want to have these conversations  
 Teachers need to be trained in appropriate pedagogies to support them in talking about racism in school  
Talking about racism doesn't have to be just about the talking.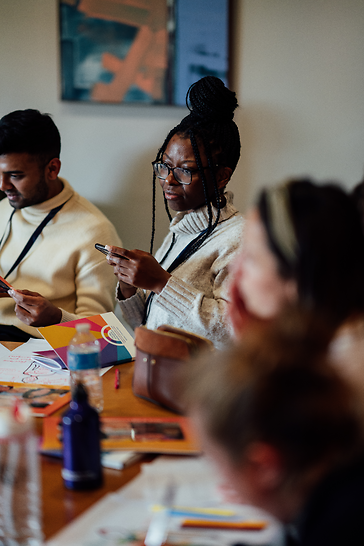 Check out these pictures from the day!
Workshop Live Tweets
You can read a great thread below from @HazelMarzetti who live-tweeted the workshop.
Lucy speaks about the practice of body mapping. They showed children different examples of racism and asked them if they recognised those experiences and how they responded to them. They then reflected on where such reactions were physically felt in the body. #EmergingMinds

— Hazel Marzetti (@HazelMarzetti) October 17, 2022
Facilitators emphasise the importance of folks using body mapping techniques for research, ensuring that there is time and space assigned for self-care after body-mapping sessions for the researchers.#EmergingMinds pic.twitter.com/xd1DykXcYD

— Hazel Marzetti (@HazelMarzetti) October 17, 2022
Click below to return to the Summit homepage or explore the rest of the Summit