Awards ceremony showcases the best of involving young people in digital mental health research and development
In July 2022 the Young People's Involvement in Digital Mental Health Special Interest Research Group (YPii DMH) hosted the inaugural YPii DMH awards.
Using the informal virtual space GatherTown, the ceremony brought together a diverse group of academics, young people, captains of industry, and mental health workers to recognise the achievements and celebrate the involvement of young people and teams in Digital Mental Health. Awards included best use of technology and social media for involvement, and involvement team and shining star.
Winners and runners up, announced by the YPii team, could make an informal speech and there was a chance to mingle after the ceremony – although most people just wanted to have a ride on the go-karts!
Read on to find out more about the brilliant award winners and runners up!
"I am an early career researcher who feels very strongly about the involvement of young people in digital mental health research and development and along with other colleagues from across several organisations I co-founded YPii DMH as a way to improve and increase the opportunities for young people in this area. It has been a real pleasure to organise these awards to recognise the incredible work that is being done involving young people in digital mental health research and development. It has been made possible by Emerging Minds who have supported us in so many ways on this journey."

Involvement Team or Group of the Year Award
This award recognises a group's ability to add value to research proposals and ongoing projects.
Joint winners: Barnet Young Voices and CAMHS.Digital
Joint runners up: Sprouting Minds and Headliners UK Northeast (CoRay Project)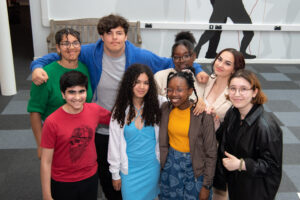 Barnet Young Voices are a group of young creatives aged 12-18 who co-produced the short film 'Generation Verified', which depicts the unique challenges this generation faces and how they can cope. The group met weekly to develop the storyline and script, rehearse, and produce. As well as starting public conversations, the film will be used as a discussion point for PSHE lessons with accompanying lesson plans and signposting to further sources of support. 
CAMHS.Digital is a young people's digital mental health research group supporting the GM.Digital research unit at Greater Manchester Mental Health NHS Foundation Trust. Meeting weekly, the group offer feedback on digital mental health projects, enabling researchers to make meaningful changes based on their contributions. They recently helped to co-design an app through a series of online workshops, using prototyping and usability testing tools. Their ethos is to work "with" and not "for".
Sprouting Minds are a vibrant team of around 20 young people, using their lived experience to help shape a portfolio of research around young people's mental health in a digital context. Not yet a full year into a grant, Sprouting Minds have already ensured that all research teams have an involvement plan and they have made substantive steps towards shaping research protocols (e.g. selecting which measure to use as outcomes, testing a game-based intervention), and co-developing wellbeing plans and reviewing safety practices.
A group of young people from Headliners UK Northeast planned and conducted interviews with mental health researchers in order to produce a podcast series and top tips as part of the CoRay Project. They brought to life evidence-based messages on: feeling anxious in social situation, dealing with change and uncertainty, and overcoming barriers to seeking help for mental health.
Best Use of Social Media for Involvement Award
This award recognises a group's ability to add value to research proposals and ongoing projects.
Winner: The Bristol Young People's Advisory Group, along with Lizzy Winstone
Runner up: Fully Focused Productions (CoRay Project)
"The project really tapped into that core concept of involvement: research being led by the people it is for"​
As part of her PhD exploring social media use and mental health in early adolescence, Lizzie Winstone wanted to develop tangible recommendations for young people. Working with the Bristol Young People's Advisory Group, together they identified five top tips and co-produced an animation on how to support your mental health when using social media. The video has been viewed more than 1000 times and teachers, public health practitioners, and clinicians have highlighted it as a useful starting point for discussions with young people about the role of social media in their mental health. 
Over just five weeks, a group of young people from Fully Focused Productions wrote and acted in the short film series "Its Not That Deep" as part of the CoRay Project. They brought to life evidence-based recommendations for supporting young people feeling lonely, isolated and disconnected, as well as insights on cyberbullying from Swansea University. The first episode has now been viewed of 150,000 times! They also ran a campaign via Tik Tok to boost engagement.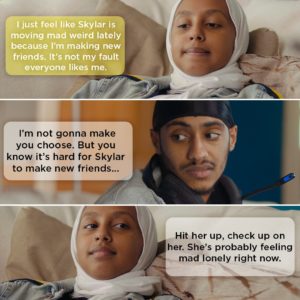 Best Use of Technology for Involvement Award
This award recognises a group's ability to add value to research proposals and ongoing projects.
Winner: The Mood Movement Network
Runner up: Sprouting Minds
"

We were so impressed by the way this team got stuck in building networks and developing new ways of working together remotely during the pandemic." 
The Mood Movement Network is a collaboration across Queen's University, University College Dublin, National University of Ireland Galway, and the University of Limerick to explore existing and emerging digital technologies to facilitate help-seeking, stigma reduction, and support for young peoples mental health. Their dedicated young person's advisory panel brought worked through the upheaval of COVID-19 to attend regular meetings, present at events, provide feedback, and co-design the website and branding. Their contribution was integral to the final co-produced report.
Sprouting Minds produced an animation video for the MindTech 2021 symposium, with a tight turnaround of just three weeks. The aim of the video was to capture experiences from young people who have been involved in a variety of projects, to inform future PPI work. The video called upon researchers to 'include those who are hard to reach', and 'to meaningfully involve young people in research', and was shared at the conference to over 100 people. They have plans to make smaller versions of the video to be distributed on social media, where it can continue to inform the next generation of researchers and PPI members.
Involvement Shining Star Award
Winner: Idrees Saleem

Joint runners up: Dr Rebecca Watson, Lowrie Burgess and Elise Sellars (CoRay Project) and Dr Maria Loades
Idrees Saleem was nominated for his involvement in both YPii and Sprouting Minds: "He is one of the hardest working people we know. He is so committed to making digital mental health research better. He is fantastic to work with, whether it is on projects or events or the development of an app, and has a wealth of knowledge that he is able to share. We are delighted to be able to recognise his important role in making involvement of young people more impactful and JUST better!"
"

Thank you so much everyone for such a lovely surprise!!! The most rewarding part of this role is knowing that I am helping you make a difference to the next generation's mental health in this digital age 💚"
Dr Rebecca Watson, Lowrie Burgess and Elise Sellars were nominated for their work on the CoRay Project supporting young people with the development of resources including infographics, films, and podcasts arounds topics like dealing with feelings of loneliness, disconnection, and isolation.
Dr Maria Loades, a researcher at the University of Bath, was nominated for her research consultation work with young people at the Youth PPI Café at Sussex Partnership NHS Foundation Trust: "She is a great advocate for youth involvement in research, she values youth voice, and is great to work with."
The Ypii Recognition Award
"This award is to acknowledge the hard work done by the young people involved in YPii and this year we would like to present it to Lucy Porte. Over the past year she has helped to shape the events we have organised, making suggestions about how we can best provide opportunities for young people to get involved in research and development in digital mental health. Also a member of CAMHS.Digital, she is certainly going to make a huge impact on digital mental health research and development. We would like to thank her for all the contributions she has made as a YPii Youth Coordinator."